After his highly success work "Aura", made for the famous Parisian shopping centre Le Bon Marche – Rive Gauche, and the majestic reconstruction of the Basilica of Siponto, Edoardo Tresoldi has created a new sculptural installation in the centre of Barcelona.
The installation of "Limes", is a site-specific creation for the 25th anniversary of L'Illa Diagonal, Barcelona's iconic shopping centre designed by Manuel de Solà-Morales and Rafael Moneo. The centre is located on the Avinguda Diagonal, an 11 km long street which divides Barcelona in half.
Tresoldi's work is being exhibited on the top of L'illa until 26 January 2019, after which it will be partially reinstalled in the interior spaces of the building.
'Limes' is made out of Cavatorta wire mesh, a material of excellence that has made Tresoldi famous. It has allowed him to create architecturally monumental and visionary works which express the notion of "Absent Matter" and the continuous dialogue that exists between matter and ephemerality.
"Limes makes a comment on the use of public space as a theatre for human interaction and as a place where spatial perceptions are punctuated with fleeting encounters, spawning subjective experiences and memories. This Absent Matter is represented here as an immaterial architecture born of similar dynamics. The ethereal space is marked by ever-changing empathic and material interactions." – Edoardo Tresoldi
The installation stands on the roof of the building, 56 metres above the ground. It is composed of six transparent volumes shaped into numerous human faces, aligned along the perimeter of the building. Looking at them from below, they change shape as you move along the building's facade. Their gaze is turned in different directions, almost as if they wanted to overcome the limits of the horizon and at the same time merge with it, while also paying homage to the public space as a chosen location for fleeting interactions.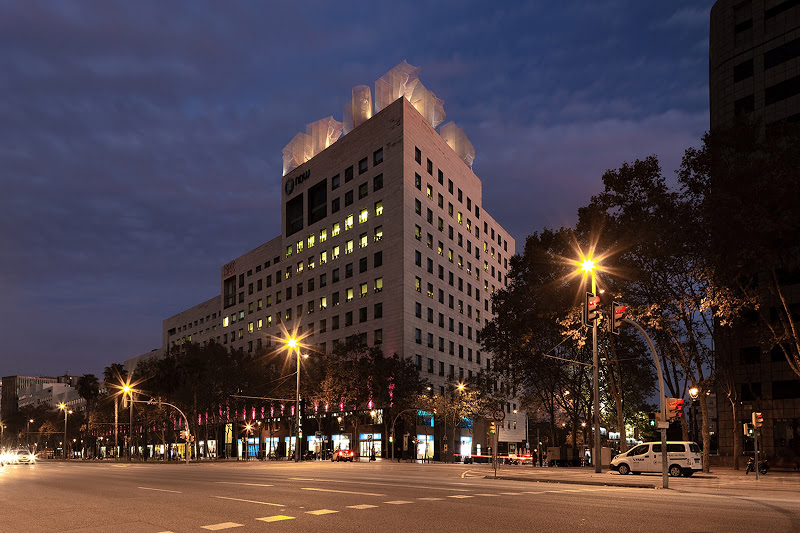 Depending on the view, Tresoldi's metallic volumes capture the light from different angles. They blend with chromatic shades in the sky while highlighting the subtle interplay of solids and voids because of the transparency of the metal mesh.
His impalpable and visionary work has an open dialogue with the majestic architectural style of L'Illa Diagonal, enriching it with transparent shapes that give the building an urban allure, yet still respecting its more classic charm.
Once again, Edoardo Tresoldi amazes and fascinates us with an extraordinarily expressive and visionary work. Once again, we at Cavatorta are proud to have been able to support him in expressing his creativity with our wire mesh.
Photo
edoardotresoldi.com
Photo Credit: © Roberto Conte
Resources