In September 2019 Edoardo Tresoldi unveiled his new artwork entitled Simbiosi (Symbiosis). The installation can be found in the famous Arte Sella Park, which suffered serious damage last winter due to storms, but continues its regeneration, thanks to this work.
Arte Sella is an outdoor art gallery in Borgo Valsugana, Trentino, where artworks blend with nature, in perfect harmony. The artists use materials found in the surrounding forests, completely in tune with the local area. With the passage of time and the changing of the seasons, the installations themselves change and transform, just like the nature around them. Numerous artists and architects have exhibited their work in Arte Sella, including Kengo Kuma, Michele De Lucchi, Giuliano Mauri and Ettore Sottsass.
Simbiosi is an installation that embodies the relationship between architecture and nature, an open dialogue between the transparency of Absent Matter, expressed through the use of wire mesh, and the materiality of the local stones. Man-made and natural materials intertwine to reflect the artistic tradition of the Arte Sella Park.
The metal structure stands five metres high, rising towards the sky and defying the force of gravity, like consciousness seeking a connection between the material and the immaterial, using nature as a means of communication.
Simbiosi is a place of rest and contemplation, an essential stop on Tresoldi's journey. The artist reinterprets the concept of ruin, not as a process of deterioration, but as a work of Absent Matter, supporting and moulding the forms of space.
"I have reconstructed a ruin, but I've done this by following the unusual rules of matter".
– Edoardo Tresoldi –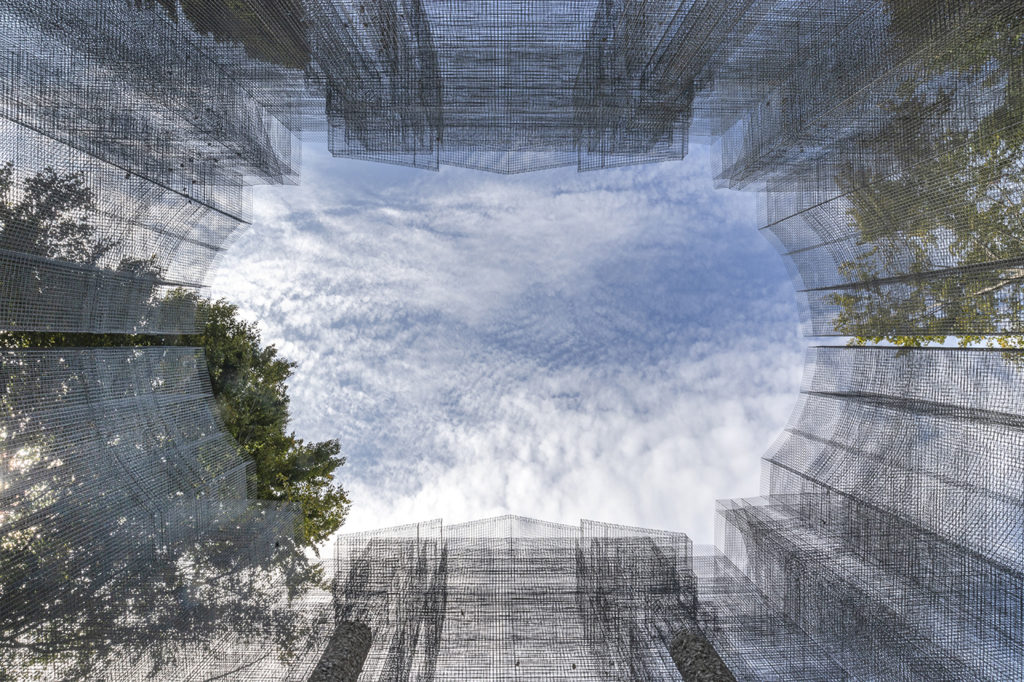 A clear difference can in fact be seen between the Basilica di Siponto project, where Tresoldi worked on the remains of an early Christian basilica to create his artwork, and Simbiosi, where the ruin itself was "constructed" with local stones, supported by a wire mesh casing.
Simbiosi blends into the surrounding landscape and exudes a deep bond with the Arte Sella Park. Like the other artworks in the Park, it will be become an integral part of the landscape, transforming over time, in step with the nature around it.
Once again, we are proud that our wire mesh has played a key role in an exciting, visionary work by Edoardo Tresoldi. In a remarkably unusual way, our products perfectly complement the artist's creativity, underlining the happy relationship between techniques of excellence and art.
PHOTOS
The wonderful photos of Simbiosi were taken by Roberto Conte (edoardotresoldi.com)