Padel is a sport that combines tennis, beach volleyball and squash and has grown dramatically in recent years. It is played in a fully enclosed court that has to follow specific rules in terms of size and materials.
Cavatorta has developed a range of welded mesh panels designed specifically for the fencing of regulation Padel courts. In this article, we take a closer look at the role and technical specifications of these fences.
Padel court fencing: dimensions and materials
The padel court has a width of 10 metres and a length of 20 metres. It is completely enclosed, both in the indoor and outdoor version. The fencing combines parts made of glass or bricks, which allow the ball to bounce evenly, with parts made of wire mesh.
The fencing along the short sides of the court is 4 metres high, of which the first three, starting from the bottom, are made of glass while the rest are made of wire mesh.
For the longer sides there are two possibilities:
Scalar glass walls 2 metres long and 3 metres high for the corner section that intersects with the short side, and 2 metres high and 2 metres wide for the next section. The fence is completed by portions of wire mesh.
Scaled walls as in the previous configuration and wire mesh to complete the fence, up to 4 m in height all around.
The wire mesh must be square or rhomboidal in shape, with a diagonal of between 5 and 7.08 cm and wire with a diameter of between 1.6 and 4 mm to ensure ideal tension for the perfect bounce of the ball.
Specific features of Pad-Sport by Cavatorta
Cavatorta has developed a range of welded mesh panels designed specifically for the fencing of regulation Padel courts. The panels are designed for fencing parts that are also active playing surfaces, while also allowing for adequate air exchange on the court. The Pad-Sport panels are suitable both for indoor courts in gymnasiums and tensile structures, and for outdoor use, and guarantee a very high resistance to extreme weather conditions and corrosion.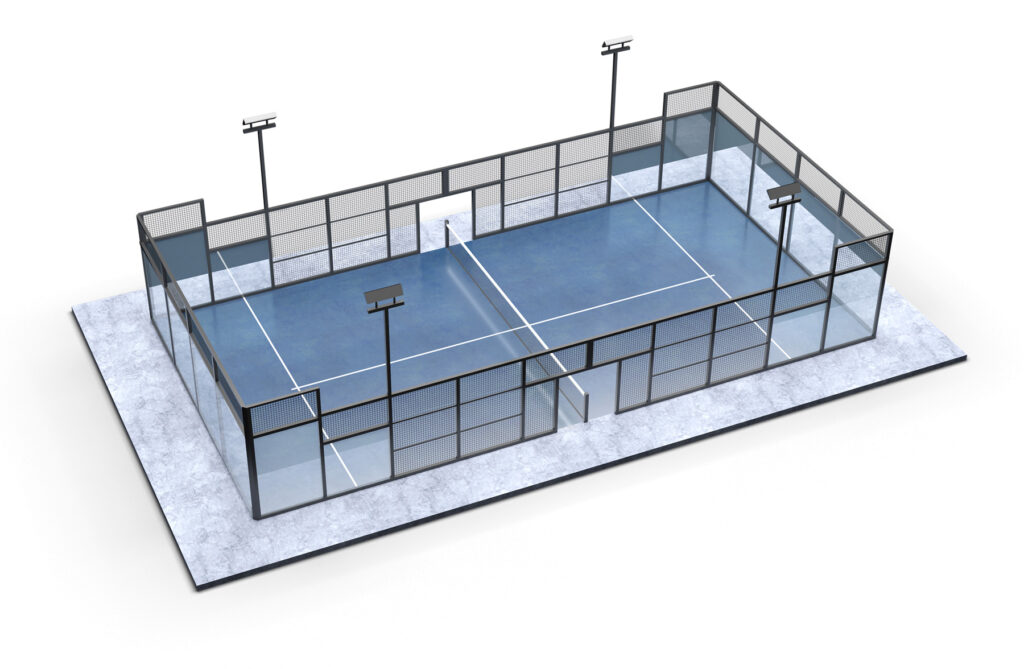 The dimensions of the panels (1000 × 2000 mm and 2000 × 3000 mm with a constant mesh size of 50.8 × 50.8 mm) are designed to suit different designs and configurations.
The modular panels in galvanised steel wire are also available in different finishes:
PAD-PANEL GALVA, hot-dip galvanised;
PAD-PANEL TEC, zinc/aluminium coated;
PAD-PANEL PLAX, with PVC coating.
On request, we can produce panels in different sizes and in non-standard colours to meet the specific needs of our customers.
For further information and to request a free quote, please refer to the technical data sheet.