'Studio Studio Studio' is the new programme conceived by Edoardo Tresoldi for the creation of cultural projects through collaboration with artists, musicians, designers, architects, and film makers. It aims to redefine the concept of creativity through fusion of different cultural, social and aesthetic factors.
In 2020 Studio Studio Studio opened Gharfa, a site-specific work created for the Diriyah Oasis project curated by Designlab Experience studio in Riyadh, Saudi Arabia. This experiential pavilion was installed near the At-Turaif District, a UNESCO heritage site. Major investments as well as the inauguration of museums and cultural projects have been planned for this site, coming at a time of evolution for the country, which, since September 2019, has been open for the first time to international tourism.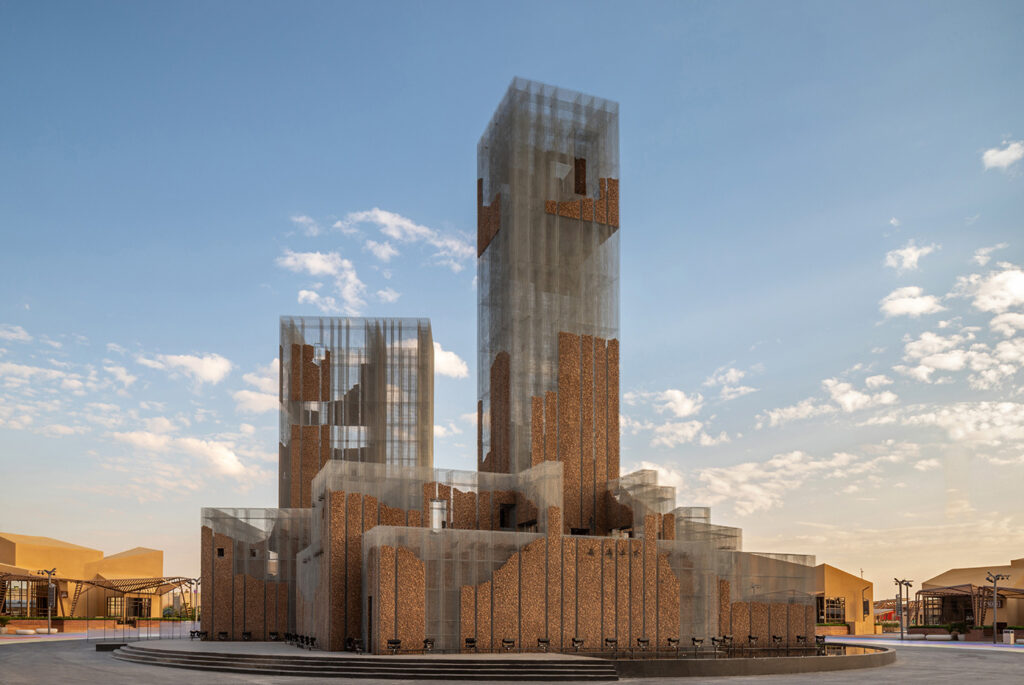 A new dimension of Absent Matter
Gharfa was born from the collaboration of the artistic director Tresoldi, the designer Alberonero, the musician Max Magaldi (known for his "sound murals") and the green designer Matteo Foschi. In this site-specific work, the intimate relationship between man, landscape and architecture is narrated through different artistic languages that converse harmoniously with each other.
The pavilion can be compared to an evocative contemporary sculpture that evokes the aesthetics of local ruins and, like them, provides a space for contemplation where visitors can lose themselves in order to rediscover the treasures of Arab tradition. Here, Absent Matter by Edoardo Tresoldi is manifested through the use of Cavatorta wire mesh and cork that simulates sand to create contemplative spaces and paths that encourage the visitor to discover. Here Tresoldi's art doesn't just blend in with its surrounding landscape: it also invites you to enter into its interior for a multisensory experience.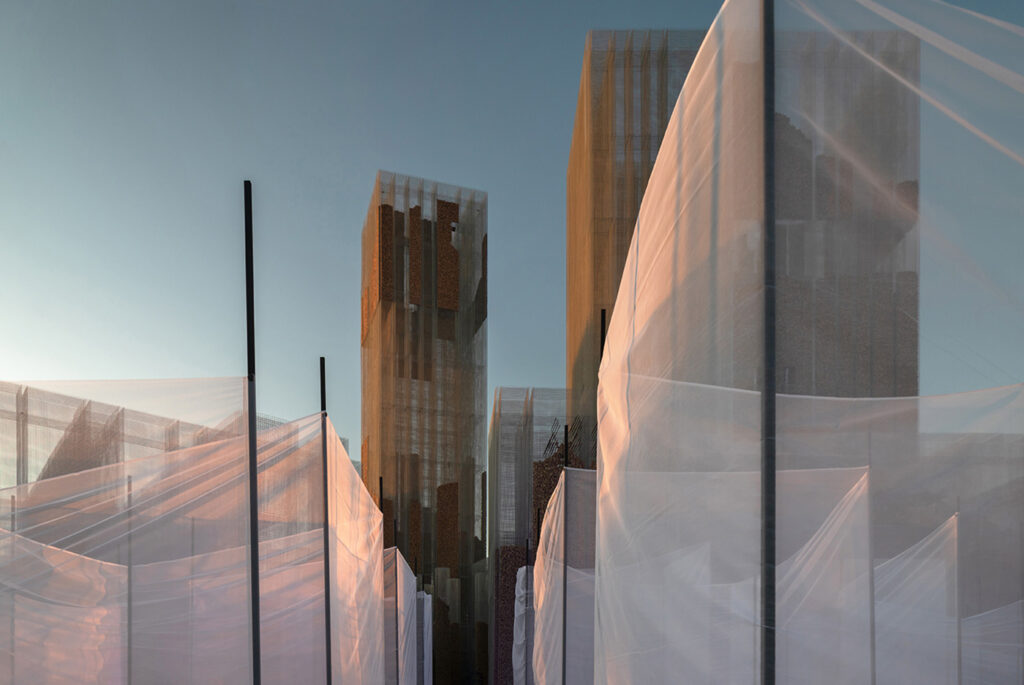 The languages
Gharfa is a combination of different expressive languages: digital and material, traditional and contemporary, organic and industrial. Reality and illusion alternate in a journey of discovery of the pavilion, and are manifested with great theatrics, starting with Duna, Alberonero's work made of semi-transparent fabric that dialogues with Gharfa, creating an ethereal space where visitors can isolate themself from the outside world. Continuing inside Gharfa, we find fire: an element of conviviality and union that is evoked in a video-installation by Tresoldi himself. The visitor then encounters a carpet, a symbol of Arab culture, positioned beneath a glimpse of the sky with artificial clouds that create a connection between tradition and contemporary reality.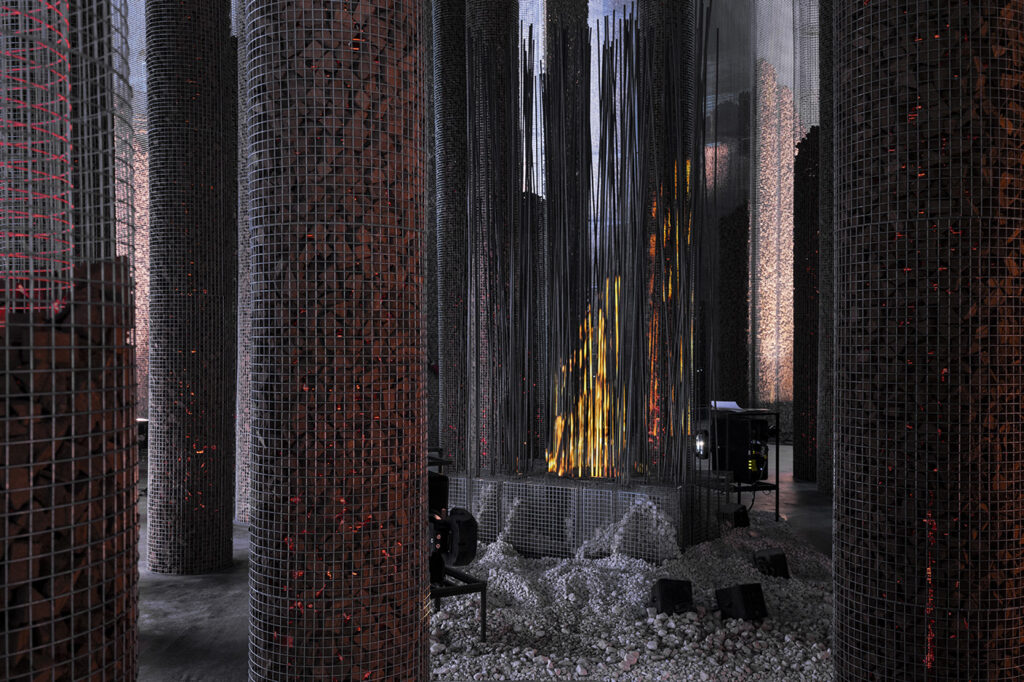 Inside one of Gharfa's two towers, visitors can find the green installation born from Matteo Foschi's collaboration with Tresoldi. Here, the arid nature of the setting is turned upside down by vegetation that intertwines with industrial materials creating an unexpected and evocative scenographic effect.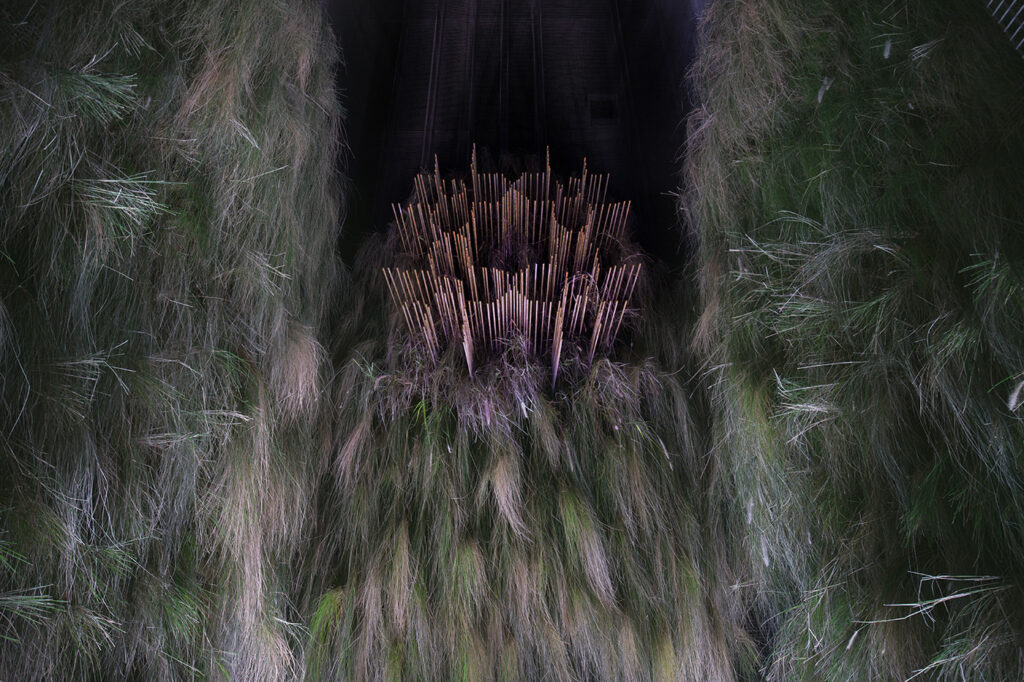 Finally, inside Gharfa, Max Magaldi's sound story traces an audio path that accompanies the visitor throughout each stage, completing this extraordinary perceptive journey.
Once again, Cavatorta is proud to have contributed its wire mesh to the realisation of this unforgettable work.