Scenic, visionary and surprising. We're talking about Fillmore, the work of art designed and created by Tresoldi Studio for the Cathédrale restaurant at the Moxy East Village hotel in New York.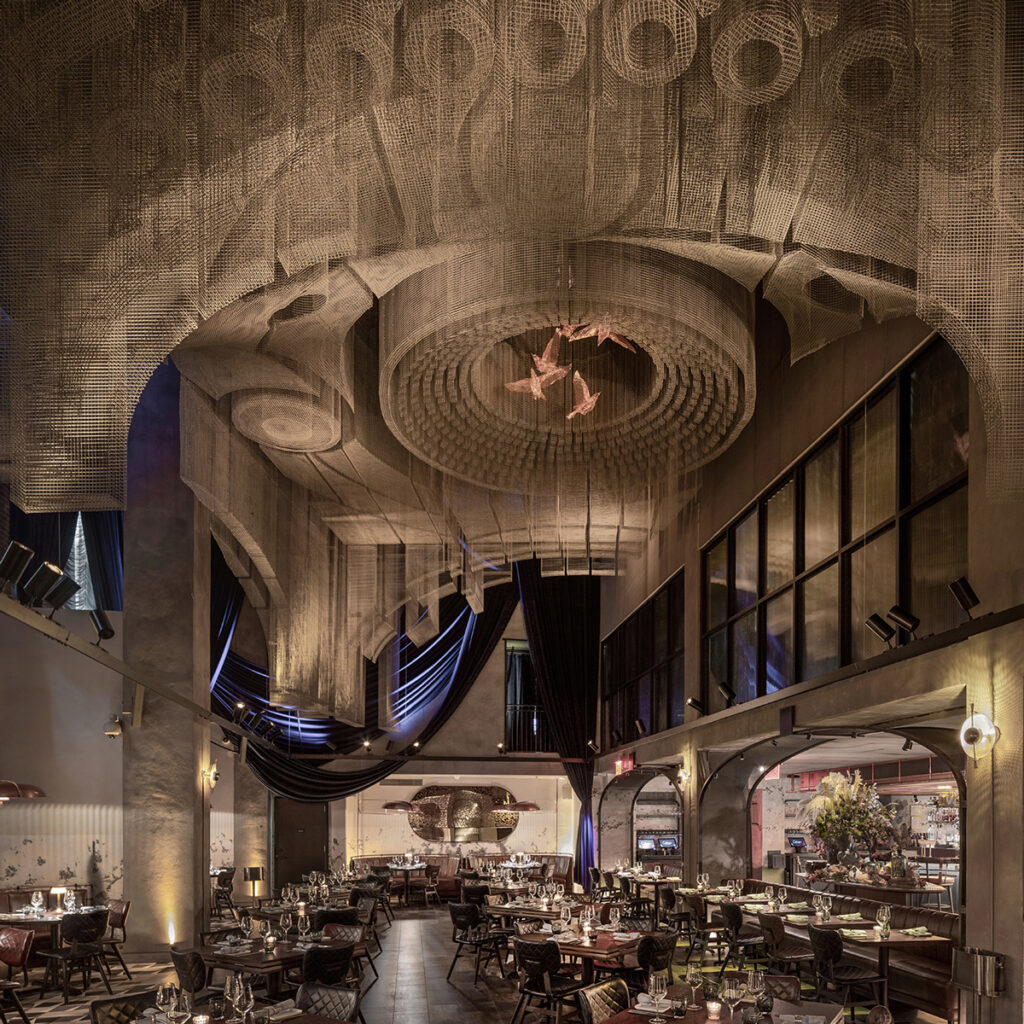 Having already completed extraordinary works such as Basilica di Siponto, Simbiosi and Opera, Edoardo Tresoldi surprises us once again with an impressive installation that enters into a harmonious dialogue with its iconic New York location, conceived by US architect David Rockwell.
The Moxy hotel pays homage to New York's East Village, the Manhattan neighbourhood that has been renowned since the 1960s as a hotbed of new artistic currents and musical genres. In this unique context, which is so full of history and charm, Tresoldi has carved out his own space, paying homage to American underground culture through a direct reference to the Fillmore, the famous concert hall located in the Lower East Side, which reached legendary status thanks to performances from such high-calibre artists as Frank Zappa, Janis Joplin and The Doors.
Edoardo Tresoldi's sculpture, which is located on the ceiling of the central dining room of the Cathédrale restaurant, is also called Fillmore. It is a majestic and ethereal vault that blends with its setting, recalibrating its spatiality and enhancing its theatricality. It is impossible to resist falling under its spell, with one's nose in the air!
A succession of wire mesh volumes and fissures that outline an evocative architecture. All enhanced by the skilful play of light, which - as with many of Tresoldi's other works - is an integral part of the overall work. Everything culminates in the central dome, which is 6 metres deep and animated in the centre by elegant metal birds suspended in flight. A symphony of fullness and emptiness and evocative visual perceptions that pay homage to the past by transporting it into a contemporary dimension of great scenic impact.      
Once again, Cavatora had the pleasure of collaborating with Edoardo Tresoldi by providing the metallic mesh that was required to bring this work of art to life. Once again, we are profoundly amazed by the result.